The Bay Area has an efficient transportation network that helps businesses and individuals make regional, national and global connections.
U.S. Highway 101, the major north-south coastal highway, runs through both Coos Bay and North Bend. The area is linked to Interstate 5 via state Highway 42 (Coos Bay to Roseburg), state Highway 38 (Reedsport to I-5 at Curtin) and state Highway 126 (Florence to Eugene).
The Southwest Oregon Regional Airport  provides passenger air service via United Airlines to San Francisco year-round, seasonally to Denver, and is working to add a Portland route.  Charter and freight air services are also available.
The Oregon International Port of Coos Bay is the public port authority for the Bay Area, operating in partnership with private sector firms that own and operate deep-draft and shallow-draft cargo terminals. The Coos Bay harbor also headquarters firms that provide marine services, including ocean towing, ship assist and stevedoring.
The Coos Bay Rail Link provides freight rail service connecting the south Oregon Coast to the Class 1 national rail system via the Union Pacific at Eugene. Shipments include bulk and manufactured wood products, steel, aggregate and agricultural commodities.
A variety of trucking companies also operate in the Bay Area, providing scheduled freight shipments, as well as overnight express mail and parcel services. Scheduled passenger and freight bus services in the Bay Area are provided by Pacific Crest Bus (541) 269-7183. Charter services are also available through Mid Columbia Bus Company and Laidlaw Transit.
Bracelin Trucking of Coos Bay Oregon
Other public transportation is provided by the Coos County Area Transit/Dial-A-Ride (CCAT). Private taxi, rental car, and limousine services are also available within the community.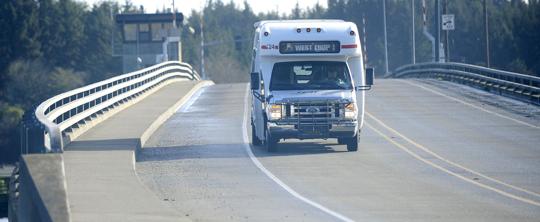 Call Chamber Member Yellow Cab Taxi; for taxi service in Oregon's Bay Area at